Happy National Read a Book Day
To celebrate National Read A Book Day the team at Venn have put together a list of their favourite books. From children's classics to post apocalyptic future trilogies here's our suggestions of books everyone should read.
This book explores how difficult relationships can be whist still being an easy read. A marriage breaking down and a last attempt to fix it, the awkward relationship between a gv-centern son and his embarrassing father who tries too hard – all whilst travelling from one city to the next. It's funny in parts and describes parts of Europe so well that I want to take off on a journey of my own. A great holiday read.

Steal Like an Artist is an illustrated guide to Austin Kleon's manifesto for creatives. It's a quick read but filled with anecdotes, useful tips and advice on finding your way as a creative. It's inspiring but not overwhelming, energetic but thought provoking and very relatable. It makes me want to get away from a computer and do things and is the perfect remedy when you're stuck in a rut or creative block.

A wonderful jaunt through the eccentricities of the English language with some striking typography too. A collection of words which can be misleading, inconsistent or both – for instance how speaking bluntly can be quite sharp and how 'verb' is a noun – it's a great little book to thumb through from time to time.
I enjoy all of Roald Dahl's books but this is definitely my favourite. What's not to love? It's got a friendly giant that delivers dreams to children at night, a little girl that's up for adventure, loads more giants that enjoy eating children, lots of weird and wonderful creative words and names. A classic read for young and old, and not surprising that it is Roald Dahl's favourite as well.
The Wool Trilogy is great if you like your post-apocalyptic fiction. The world outside has become toxic and humanity has been confined to an underground Silo. Their view of the outside is limited to digital screen on the top floor. Nearly a hundred and fifty floors below the ground a society functions on structure and rules. Questions about the outside are forbidden. Some questions can be dangerous, some questions can lead to the truth. Hugh Howey self published Wool with the success of this and the following Shift and Dust being down to the support of the fans.
What would happen if you could smell everything in perfect detail? If you could smell someone coming down the street? Smell your way in the dark? Hopefully you wouldn't turn out like Grenouille, the obsessive lead character in this incredible, intense but very readable story. Perfume is a dark magical realism novel with everything; it paints a vivid picture of 18th century Paris in all its grotesqueness, has a wonderful plot, and possibly the best climax of any book ever. Plus you learn about about how perfume is made along the way. I love it.
What's not to love about this classic? It has a man-size cat that wears a top hat with juggling skills, there's a talking fish, loads of clever rhyming words and great illustrations. It was read to me as a tyke and one of the first books I looked for when my little ones came along.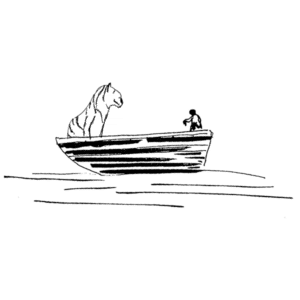 The story of a young boy, on a lifeboat, with a tiger, has as much depth as the sea Pi is adrift on. How Yann Martel touches on religious and philosophical topics through the mind of a young boy is thought provoking. You're taken on an adventure beyond the immediate danger Pi is in and guided through Pi's thought process in a compelling yet simple way. Combined with it's beautiful descriptions throughout, this book had me going back and reading pages over and over again. All of this can be seen in Chapter 60, which is only two pages long.